Frogs~Fur~Friends
Frogs~Fur~Friends was a fundraiser held in the community in 2005 to benefit the Children's Home of Detroit and the Grosse Pointe Animal Rescue. Fifty-two LARGE fiberglass frogs were delivered to local artists to decorate; and after being on display all summer, were gathered together to be auctioned off. Selling prices ranged from $500 to $13,000, with this frog, named "Art on the Frog", collecting the highest bid of the night.  Art on the Frog, representing five different art forms, was covered with over 15,000 pieces of hand-cut stained glass. Many friends stopped by to help set this mosaic amphibian.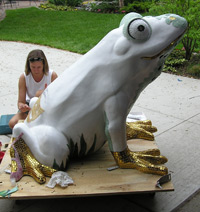 Once the lower edges were covered in glass, the frog was set upright for the main body work. (The gold glass feet represented the art of porcelain animal sculptures.).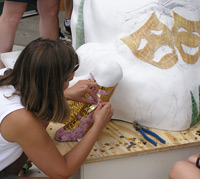 This close up shows ½" square tiles of pink glass being glued to the back feet to replicate ballet shoes (dance), with the masks of comedy and tragedy already glued in place (theater).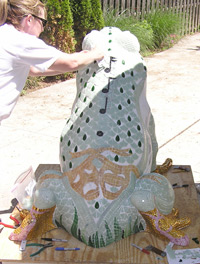 After the musical notes were set in place along the frog's spine (full, half, quarter, eighth), smaller green glass pieces were cut to fill in the spaces between the scallop shapes and the dark green faceted glass jewels.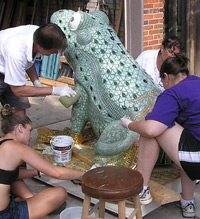 Last minute grouting was a team effort.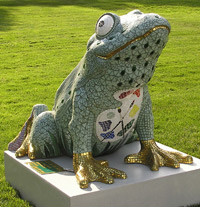 Art on the Frog on display at the Edsel and Eleanor Ford House. (Note the "Fine Art" tribute of the paint palette and artist brushes on his belly.)