Antique Stained Glass Window
Restoration of antique stained glass window – Sacred Heart Catholic Church, Detroit.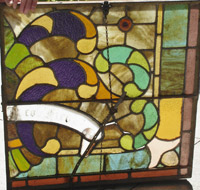 This panel, the lower right section of a 20'h x 4'w window set, was in need of repair. Besides the inward bowing and broken glass, the donor family's name on the white banner was almost completely worn away from years of exposure to the elements.
Closer view of the effect of poor repairs which caused the glass to shift, resulting in open gaps between the lead and the glass and bowing in the panel despite the steel reinforcement bars.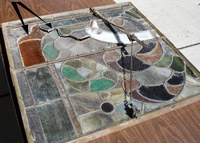 Back view showing odd amber replacement glass in the green border and nearby glass and leads broken away from the structure.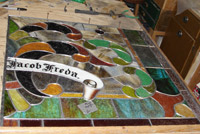 The restored window is shown nailed in place on the workbench ready to be soldered. The original white glass banner has been repainted and repaired. All the glass in the panel was cleaned and incorrect and/or broken glass was replaced with appropriate 100+ year old glass. The panel was completely re-leaded.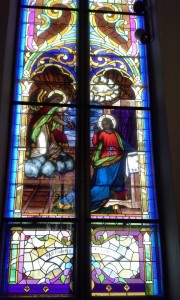 The finished panel installed in place.